Photography, filmmaking, and digital video are also interests of mine. I want to be a filmmaker, and so naturally, film and video gear fascinates me, along with directing and cinematography theory. DNLE (digital non-linear editing) is also a fascinating subject. Below are some pictures of my camera gear.


Camera
Nikon F3 35mm SLR

Filters
Tiffen Cir.Polarizer, ND-3, ND-6, ND-9, and various NC/Haze filters


Lenses


| | |
| --- | --- |
| Left: | Nikkor 35-105mm |
| Center: | Nikkor 100-300mm, Nikkor 50mm |
| Right: | Sigma 35-135mm |


Accessories


Left:
SB-16A flash unit
Center:
AS-4 flash adapter, Seconic L-398M meter
Right:
SB-12 flash unit,
HN-24 lens hood
| | | |
| --- | --- | --- |
| Nikon R8 Super-8 Camera | Vernon Super-8 Editor | Hervic Super-8 Splicer |
Below are pictures taken during the shooting of two different film school projects in the Fall of 2000. Both films are short (5-7 minutes) movies with no sync-sound, only music soundtracks.


Nadia's Feast

This movie is a 5 minute chase sequence in which the vampire, Nadia, is observed feeding on her latest victim by an innocent bystander. Horrified, hapless Joe takes off running with Nadia in calm pursuit. The sequence ends at his apartment where a surprise birthday party full of guests greets him, only to become Nadia's greatest feast!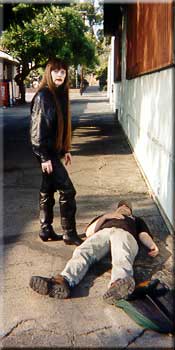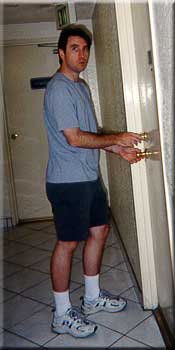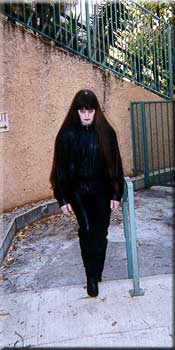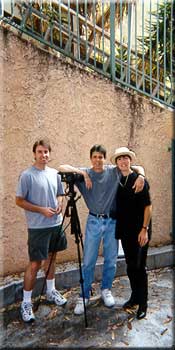 From Left-to-Right: (a) Nadia and her first victim, (b) Joe reaches his apartment, (c) Nadia is right behind, (d) Me and my actors.
"2 Minutes"

This is a 7 minute story about a female chess hustler, inspired to some degree by one of my favorite movies, Searching for Bobby Fischer. Of the three actors playing blitz chess in the film, only one actually knew how to play.
| | |
| --- | --- |
| Reflectors: never leave home without them! | Sue and Tom supplying a Kodak moment. |
| Group shot of me (2nd from right) with my actors and crew. | Sue and Tom playing their game of blitz. |
| Sue and Garrett about to play. | Tom plays a sore loser. |
Still Photography

Here are some samples of my still photography work. The shots below were taken with my Nikon F3 and a number of different lenses: a Nikkor 50mm f/2, a Nikkor 35-105mm f/3.5-4.5, and a Sigma 35-135mm f/3.5-4.5. These are scans of ordinary 4x6 prints, not slides. I have touched up the images in Photoshop to compensate for the mediocre prints I had to start with. Click on any picture to see a larger version.



"Wall Mural 1"


"Wall Mural 2"

These wall murals can be found painted on the sides of two different buildings just off of Hollywood Boulevard in Los Angeles. Beautiful works of art like these appear strikingly out of place amidst the ugly, the dilapidated, and the downright tacky streets, storefronts, and buildings of Hollywood.


"Tinseltown Traffic"

East-bound traffic on Hollywood Boulevard at Highland Avenue around 4pm on a Friday. I had to stand in the middle of the west-bound side of the street to get this shot. Luckily, there is virtually no traffic going in that direction at that time of day.


"Long Beach House"

(Above) Brick and wood together in beautiful harmony on this house in Long Beach.

(Right) A couple of tourists who appear to have had their fill of Hollywood sight-seeing.


"Tired of Hollywood"


"Guard Kitty"

My neighbor's cat. He was curious enough about me to stay put long enough for me to get the shot. But as soon as he heard the snap of the camera shutter he was gone in a flash. In truth, I have no idea if it is a he or a she...


"Fat Kat 1"

These are two different black cat statuettes which adorn my living room. One is 12" inches tall, the other 18".



"Fat Kat 2"

"Griffith Observatory 1"


The architecture of Griffith Observatory in Los Angeles provides a nice study in the synthesis of curves, lines, and angles. Early-summer (mid-June) light at about 1pm.


"Griffith Observatory 2"

"Griffith Observatory 3"
Long Beach Classic Car Show

Every Fall, Long Beach hosts a classic car show for one Saturday in September. It is amazing to see the variety of classic and tricked out cars on display all along the Belmont Shore segment of 2nd Street. The hard part was getting the cars properly framed in each shot. At the time these were taken, I didn't yet have my 24mm wide-angle lens, and there was barely enough room to back away far enough to comfortably get the cars completely in frame at a 35mm focal length. Click on any picture to see a larger version.


Film & Video Links
Coming soon...